The key development in Asia during the week of May 27 was the passing of the Federally Administered Tribal Areas (FATA) merger bill, also known as the 31st Amendment, with a two-thirds majority by the Khyber Pakhtunkhwa Assembly on May 27 (Dawn, 30 May 2018). The bill aims to merge FATA with the province of Khyber Pakhtunkhwa as a means to grant greater security to the region, which up until know has been a haven for militancy. This was the last step in the approval process as earlier the bill had been passed by both the upper and lower houses of the Pakistan parliament (for more details on the merger of the FATA and KP, see this recent ACLED piece).
Overall levels of political violence decreased by 44% and levels of protests decreased by 24% throughout the South and Southeast Asian regions.
In Afghanistan, the Taliban's push to overtake new territory slowed down over the past week, with only minor territorial gains in Takhar province. On May 30, the Taliban successfully captured the headquarters and main police posts of Dashti Qala district. They were, however, pushed back by state reinforcement only hours later. Minor territorial gains were made in the Khwaja Ghar and Khwaja Baha Wuddin districts of the same province.
In India, militants continued to launch attacks against state forces in the state of Jammu and Kashmir, even as the unilateral Ramadan ceasefire declared by the Indian central government remains in place.
There were several state- and nation-wide protest movements in India with people protesting against rising fuel prices, the 'Citizenship (Amendment) Bill, 2016' in Assam, and state response to water shortage in Himachal Pradesh. Farmers staged demonstrations across the country over food prices, and bank employees launched a nation-wide strike and protest movement demanding better work benefits.
(Data on Philippines, Thailand and Myanmar have not yet been released; trends are hence not explored above.)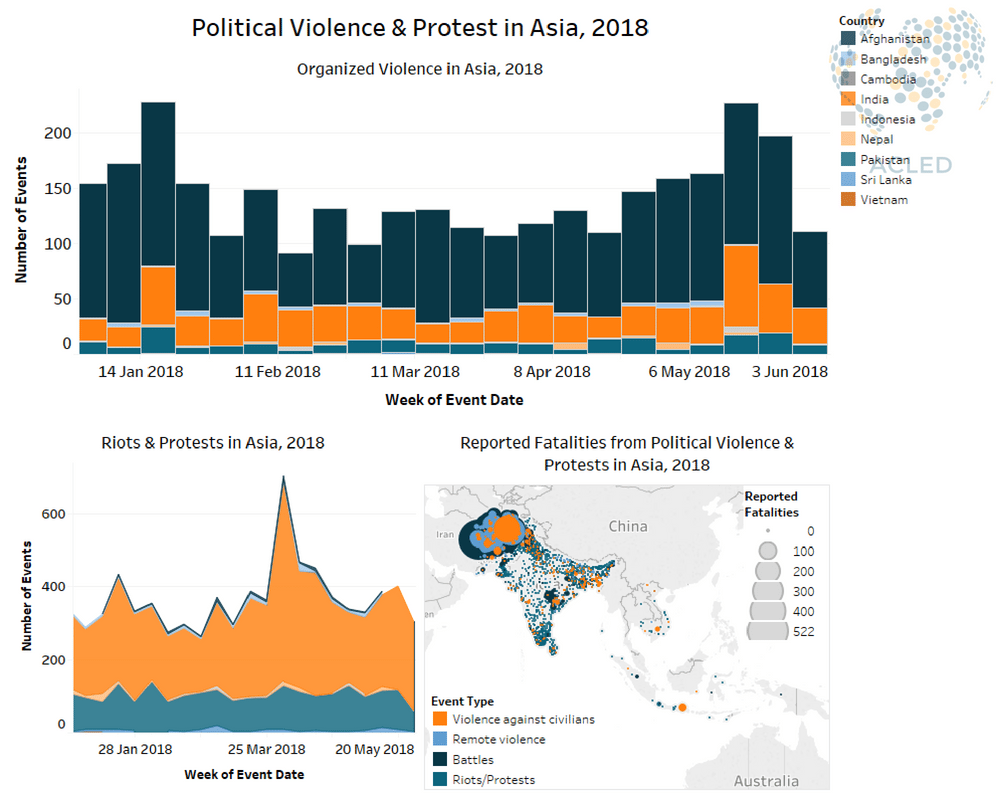 Regional Overview – Asia
5 June 2018