Levels of political violence decreased and the numbers of demonstrations decreased or remained the same in all South and Southeast Asian countries last week compared to the previous week.
In Afghanistan, fierce clashes erupted in Ghazni province with Taliban forces closing in on the provincial capital. The majority of battles occurred in the Dih Yak, Jeghatoo, and Andar districts, which directly surround Ghazni city and the outskirt district of Ajristan.
In India, following the local election on May 14 and re-polling on May 16, political violence declined in the state of West Bengal with only one reported incident last week. A Bharatiya Janata Party (BJP) supporter was shot dead by a Trinamool Congress (TMC) supporter. A surge in militant and cross-border violence was, however, reported from the state of Jammu and Kashmir. Indian and Pakistani forces exchanged fire at several places along the Line of Control (LoC) and the Working Boundary (WB), leaving at least a reported dozen people dead on both sides.
Protests levels in India remained static last week. In Thoothukudi, Tamil Nadu, the police used live ammunition to quell rioters demanding the closure of the Vedanta Group-run company, leaving a reported 13 people dead. In addition to demonstrations against the Thoothukudi police firing, the Indian National Congress (INC) and other groups held nationwide protests against the rise in petrol and diesel fuel prices, and the people of the state of Assam took to the streets to protest against the "Citizenship (Amendment) Bill, 2016". The bill would provide citizenship to illegal migrants from Afghanistan, Bangladesh, and Pakistan, who are Hindu, Sikh, Buddhist, Jain, Parsi or Christian without having similar provisions for members of Muslim sects like Shias and Ahmediyas (The Hindu, 26 May 2018).
In Pakistan, protests occurred throughout Sindh province to demand the recovery of Sindh nationals who are missing due to 'enforced disappearances'. In Sri Lanka, several protests were reported against a statement made by a minister regarding a day of mourning for a deceased Liberation Tigers of Tamil Eelam (LTTE) leader.
(Data on Philippines, Thailand and Myanmar have not yet been released; trends are hence not explored above.)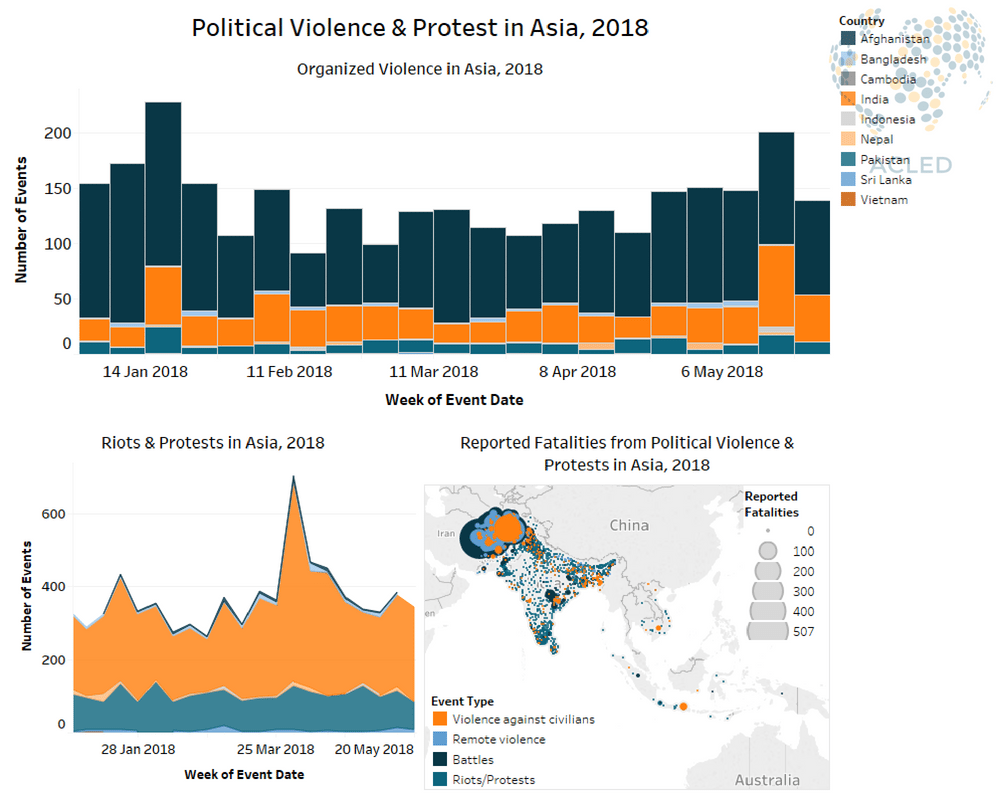 Regional Overview – Asia
28 May 2018