Levels of political violence and protest events decreased throughout South and Southeast Asian. From a country perspective, the levels of political violence levels dropped most significantly – by 37% – in Afghanistan, yet remained static in India and slightly increased in Pakistan.
In Afghanistan, the number of battles between government forces and the Taliban increased last week. The Taliban continues to launch offensives to take control of remote districts, pushing out government forces in both Tala wa Barfak district of Baghlan province and Bilchiragh district of Faryab province – although the latter was retaken by government forces one day later (The New York Times, 13 May 2018).
Political violence in India continues to be dominated by pre-election violence in the state of West Bengal and clashes between government forces and militants, as well as rioters, across the state of Jammu & Kashmir. Battles between government forces and Maoist rebels were also reported from Balangir district in Odisha state.
In Indonesia, a deadly prison riot took place in Kelapa Dua in West Java from May 8 to May 10. Jemaah Ansharut Daulah (JAD) militants tried to engage in a prison siege but were intercepted by the police's anti-terrorism unit Special Detachment 88 (Densus 88), leaving two militants dead (Tempo.co, 11 May 2018).
Protest levels decreased or remained static in all South and Southeast Asian countries. People continue to protest throughout Pakistan against prolonged power outages during heat waves as well as shortages of drinking and irrigation water.
(Data on Philippines, Thailand and Myanmar have not yet been released; trends are hence not explored above.)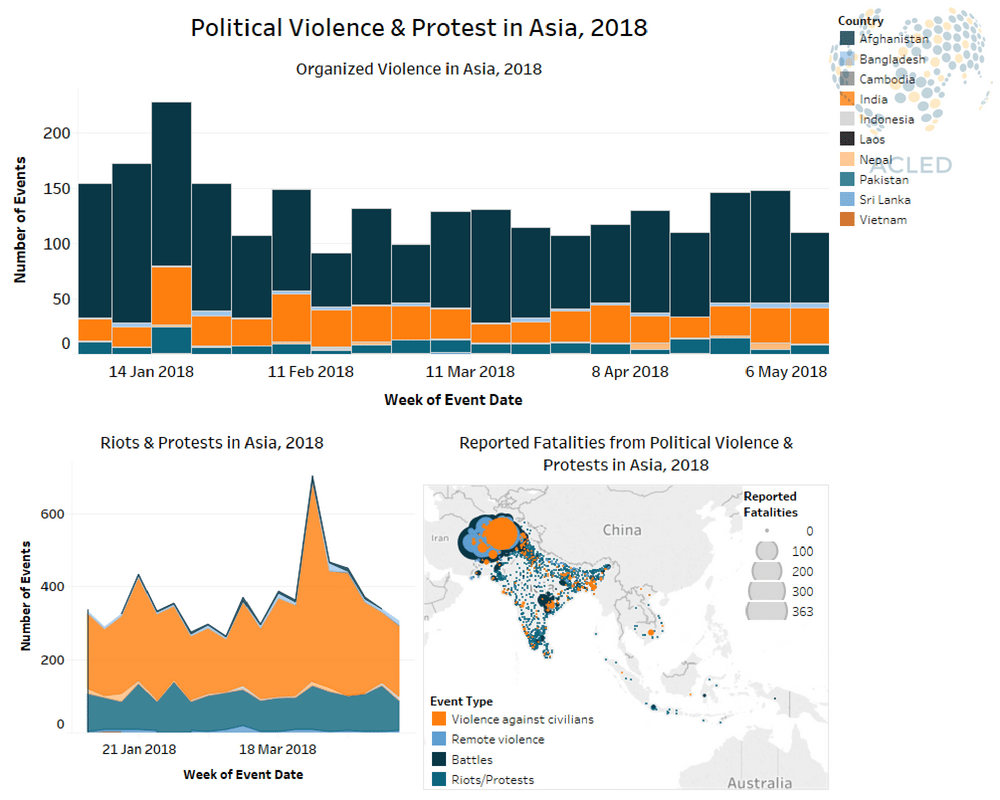 Regional Overview – Asia
14 May 2018