Levels of political violence increased in several South Asian countries while the number of protest events declined or remained static in the South and Southeast Asian region over the course of last week.
In Pakistan, there was a rise in militant activity with nine reported events last week compared to five events the week of April 15 and three events the week of April 8. The largest event was a triple suicide attack on police and Frontier Corps paramilitary forces stationed in Quetta city, the capital of Balochistan province. A group called Hizbul Ahrar – a splinter group of Jamaat-ul-Ahrar, which itself is a splinter of Tehreek-i-Taliban Pakistan (TTP) – claimed responsibility for the attack which left 6 people dead in addition to the 3 suicide bombers.
In India, security forces launched an assault on Maoist rebels leading to a series of encounters in the states of Chhattisgarh, Maharashtra and Andhra Pradesh that reportedly left at least 48 people dead.
Although overall levels of political violence remained static in Afghanistan, there was a rise in the number of events related to the Taliban offensive in the usually quiet Badghis province.
Protest levels in India declined by over 30% last week compared to the previous week, although riot and protest levels remained high in the states of Jammu & Kashmir and West Bengal. People of Jammu & Kashmir continue to take to the streets to protest sexual violence against women, while supporters of different political parties continue to clash in West Bengal. Over the course of the past few weeks, high levels of pre-election violence have been reported from West Bengal, where the 2018 panchayat (village government) elections are scheduled for May 14 (Financial Express, 26 April, 2018). 
(Data on Philippines, Thailand and Myanmar have not yet been released; trends are hence not explored above.)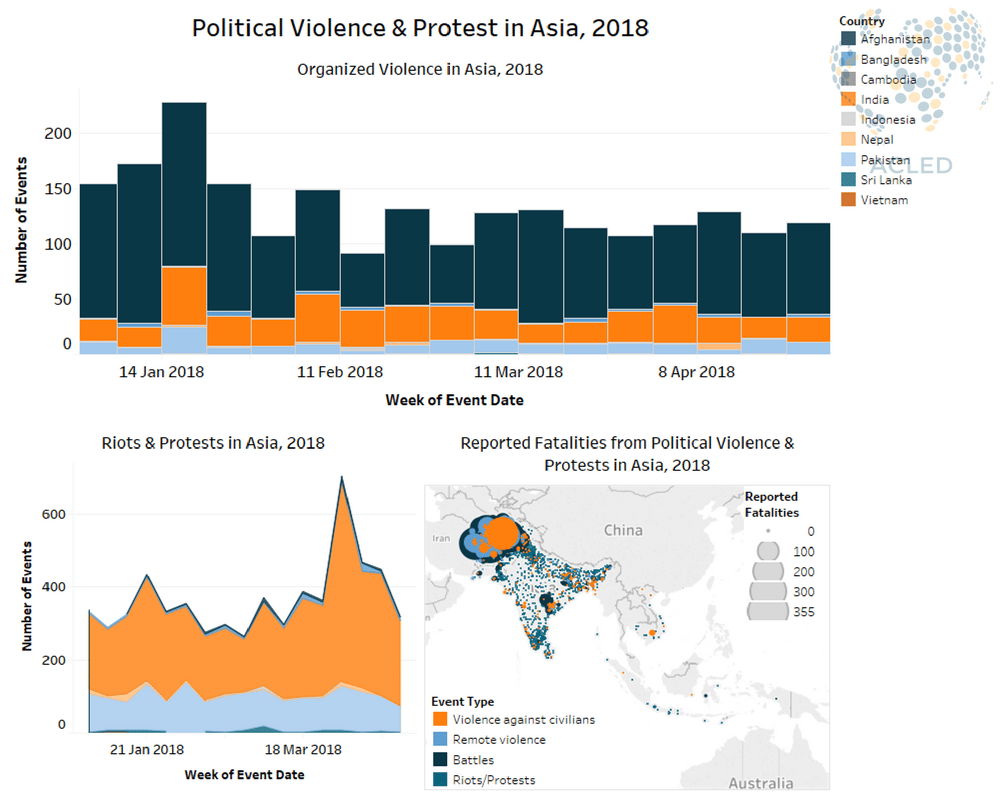 Regional Overview – Asia
30 April 2018