With regular updates on the ACLED Crisis Blog, ACLED analysts have created a selection of graphs, charts and infographics to highlight key trends and patterns in conflicts across the African continent and in select country cases.
---
ACLED Maps
ACLED researchers present dynamic, interactive maps of conflict using data from ACLED Version 7. They illustrate key dynamics in event types, reported fatalities, and actor categories. Users can select or de-select options in the legends to edit and manipulate the visualisations. The maps are visualised using Tableau Public.
---
ACLED Trends Visuals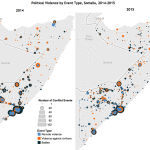 A selection of visuals highlighting continental and country trends in political violence are included below. The data is drawn from ACLED Version 7.
---
ACLED Infographics
ACLED analysts have created several infographics drawn from the realtime 2013 data (available in ACLED Version 4). These are shared on our Twitter feed, and posted below.