ACLED publishes regular analyses and reports on key countries, dynamics and patterns of political violence and protest in Africa in contemporary and historical perspective. Publications are intended to inform academic, policy and practitioner work in key countries, regions and sectors in conflict analysis, peace-building and armed violence reduction.
Conflict Trends Reports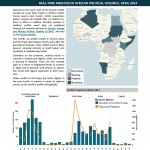 ACLED Conflict Trends reports are monthly updates on political violence, protest, and conflict events in African states. They are based on real-time data, and compare current trends and patterns to historical dynamics in key focus countries.
---
Country Reports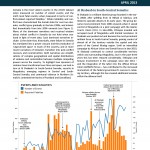 ACLED Regional and Country Reports provide detailed conflict profiles for selected African regions and countries in the dataset. Historical patterns of violence, regional dynamics and key actors are explored.
---
Working Papers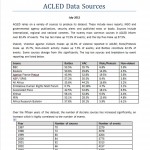 ACLED Working Papers explore different methodological and thematic issues highlighted by the data collection project. Working papers published to date include analyses of the role of distinct actors, actor types and sources in coding.
---
Select Articles and Book Chapters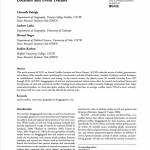 The following are selected academic publications which make use of disaggregated conflict data. They include articles by ACLED researchers and studies on a wide variety of themes in conflict, peace and development studies.
---
The following user documents detail methodology and use of the ACLED dataset. They include instructions on using the data for realtime analsyis, and specific guidelines for humanitarian and development practitioners.