ACLED will soon debut new event types to make analysis for users easier and more informative. While the structure of the data will remain similar to what users are familiar with, there will be some changes to content.
Alongside the new event types, ACLED will also add a sub-event type variable, which will disaggregate event types to allow for more nuanced analysis.
The primary changes users can expect to the event type variable are outlined below and captured in the flow chart:
The three distinct battle types (Battle-Government regains territory; Battle-No change of territory; Battle-Non-state actor overtakes territory) will be subsumed within one overarching

"Battles"

event type;


The territorial change aspect will still be captured within the new sub-event type variable;
Suicide bombings and grenade attacks – which previously were included in Battle, Violence against civilians, or Strategic development event types – will now be aggregated with events previously coded as "Remote Violence" to create a new

"Explosions/remote violence"

event type to help bring together all explosive violence under one heading.  "Remote Violence" will no longer be an event type;
The Riots/Protests event type will be disaggregated into new and separate

"Riots"

and

"Protests"

event types to allow for easier analysis around demonstrations and low-level, spontaneous violence;

Violence against protesters – previously housed under Violence against civilians – will now be included under

"Protests"

; such events will be designated as a distinct sub-event type ("Violence against protesters");

Demonstrations involving violence or destructive behaviour and violence involving rioters against civilians, such as mob violence – previously housed under Violence against civilians – will now be included under

"Riots"

;
The non-violent event types – "Headquarters or base established" and "Non-violent transfer of territory" – will now be included as sub-events under an overarching

"Strategic developments"

category to make filtering of non-violent events in analysis of organized violence easier for users;


Instances of drones or missiles being shot down (interceptions) – previously housed under "Remote violence" – will now be included under "Strategic developments" as well.

The list of new sub-event types will be shared publicly soon, opening the door to a world of more granular analysis. Sub-event types will be introduced as a new column to the ACLED dataset and will hence require some small changes to users depending on the API call (details will be shared and made available on the ACLED website).
Have a question? Join ACLED on Twitter @ACLEDINFO on March 15 by using the hashtag #ACLEDchanges or replying to our Tweet announcement for a live Q&A event with the ACLED team. Join in to ask your questions about how the new event and sub-event types will impact your analysis!
Not on Twitter? Send your questions in via email to: admin@acleddata.com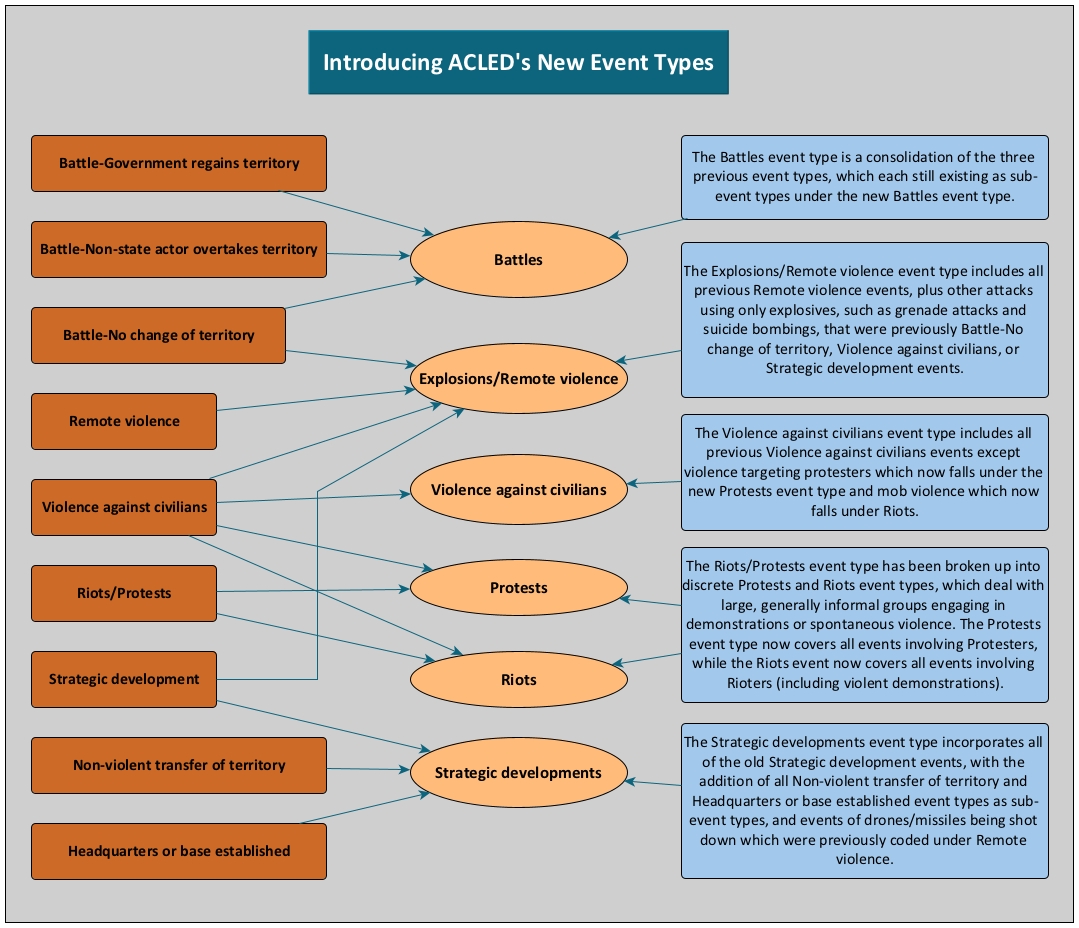 © 2019 Armed Conflict Location & Event Data Project (ACLED). All rights reserved.

ACLED Methodology Change: Introducing New Event Types and Sub-Event Types