Iran has been the stage of a new wave of civil unrest since late December 2017, when citizens gathered in the street in demonstrations that turned deadly (for more on this, see this past ACLED piece). Thousands gathered in the streets to air general popular grievances in the early days of the 2017/2018 demonstrations. The regime's inability, or unwillingness, to address the nation's economic problems since then, however, has led to a shift in the framing of these demonstrations — from more general popular grievances towards specific labour issues such as mass layoffs, unpaid salaries, and the mistreatment of striking workers by employers and police forces.
The overall weekly number of riots and protests has remained high since late 2017 at the beginning of this wave of activism, when demonstrators were comprised largely of the 'middle class poor' — a "socioeconomically deprived [subset of the population with] … middle-class aspirations and qualifications" (Fathollah-Nejad, 3 April 2018). In recent months, however, the primary participants in demonstrations have become labour groups, including labourers, farmers, and teachers — groups also suffering from uncertain livelihoods. The chart below shows the changing composition of associated actors to rioters and protesters in Iran since the last week of December 2017 through the beginning of June 2018.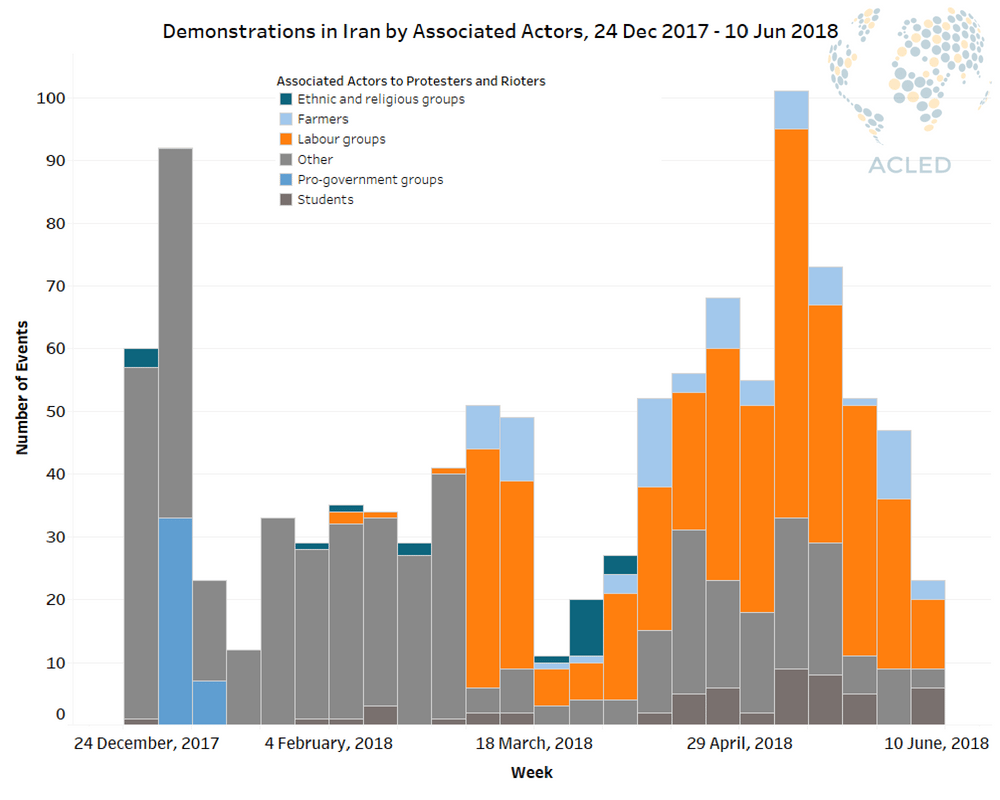 In particular, labour groups — often belonging to a specific company or factory — have risen in significance; in recent weeks, they have made up over half of all riots and protests. Groups such as labourers, truck drivers, teachers, and municipality employees often seek months of unpaid wages or benefits like insurance. The swell of protests by labour groups beginning in March 2018 may be related to crackdowns by police forces on striking workers, in addition to the unresponsiveness of employers toward their demands. Many groups end up striking or gathering in protests continuously or regularly when their demands are not met, suggesting that employers either do not have an interest or do not have the means to address their grievances. The nationwide strike by truck drivers, for example, significantly affected the economy; while the government conceded a 20 percent increase in transport payments, it did not meet the protesters' demand of 35 to 50 percent or end the strike (Radio Farda, 2 June 2018).
Workers and other groups are making their voices heard across the country as they sustain the demonstration movement that began in late December 2017. Chanting slogans such as "neither Gaza nor Lebanon, my life for Iran," the protesters have signaled to the government that it should focus on providing stability and well-being to its citizenry rather than its regional ambitions (Fathollah-Nejad, 3 April 2018). Whether the government responds suitably to the demonstration movement will determine its lifespan and intensity.

The Changing Nature of Demonstrations in Iran