Violence between state forces and militant groups increased last week in both Turkey and Iraq, some of which can be attributed to the month of Ramadan. In Iran, wide-scale economic protests continued, mostly led by labour groups. In Syria, Islamic State (IS) militants evacuated from the areas south of Damascus, and regime forces prepared for an upcoming offensive against remaining rebel enclaves in Dar'a province. Meanwhile, in Yemen, anti-Houthi coalition forces along with allied militias advanced deeper into Tuhayat district, northward up the west coast toward the port of Hudayda, and surrounded the Baqim Suq area.
In Iraq, a recent increase in violence is being attributed to the commencement of the holy month of Ramadan, which IS leaders have stated in the past is a "holy month for jihad". This has led to similar levels of increased activity by the group since 2015 during this period (The Atlantic, May 26, 2017).
In Turkey, last week was the most lethal 7-day period since the beginning of 2018, with 91 deaths attributed to the ongoing conflict between the Turkish government and non-state armed groups, primarily the Kurdistan Workers Party (PKK), in several eastern provinces. Almost half of these were reported in a single battle between PKK and Turkish Gendarmerie forces in Dogubeyazit district of Agri province, which makes it the most lethal event in Turkey so far in 2018.
In Iran, country-wide economic protests continued, led for the most part by transportation and municipality workers, demanding lower costs of living and the payment of delayed wages.
In Syria, government and allied militia forces engaged in widespread looting as IS fighters and other civilians began evacuations following the recent surrender and evacuation deal reached with IS in areas south of Damascus city. However, IS militants remained active in Deir-ez-Zor, where Syrian government forces fought off several attacks by the group in the Al-Mayadin desert. Clashes also continued between Syrian Democratic Forces, backed by the Global Coalition Against Daesh, and IS on the east bank of the Euphrates, concentrated around Hajin and Baguz.
Elsewhere in Syria, government and allied forces continued shelling different areas of northern Hama and southern Idleb as the regime increased deployment of its forces to Dar'a province. This is in preparation for an intensified offensive to retake its remaining rebel enclaves. Israeli warplanes also carried out airstrikes on Hezbollah and pro-government militia positions at Al Qusayr Air Base in western Homs. Additionally, a notable trend in assassinations and unidentified attacks against rebel and Islamist factions continued this past week in northwest Idleb and Aleppo, with the majority of targets being Hayat Tahrir al-Sham fighters or its allied factions.
In Yemen, anti-Houthi coalition forces have reportedly advanced to surround the Baqim Suq area, where high levels of violence have been reported since the Saudi-led coalition intervened in the conflict in 2015. New territories were captured by National Resistance forces and southern anti-Houthi militias in Tuhayat district and along the west coast leading up to Hudayda port city. Meanwhile, Abu Abbas militias reportedly clashed with soldiers from the 170 Air Defense Brigade and 22 "Mika" Brigades in Taizz city, highlighting fractures within the anti-Houthi coalition forces. Clashes between Al-Houthi militias and Saudi soldiers, supported by allied militias, also intensified last week, with most battles being fought along the southern borders of Najran and Jizan governorates.
(Note that our coverage of Saudi Arabia and Yemen is supported by local partners and is therefore subject to sourcing lags based on their capacity to process reports and the situation on the ground. As such, some events may be incorporated into ACLED's dataset with a one-week delay)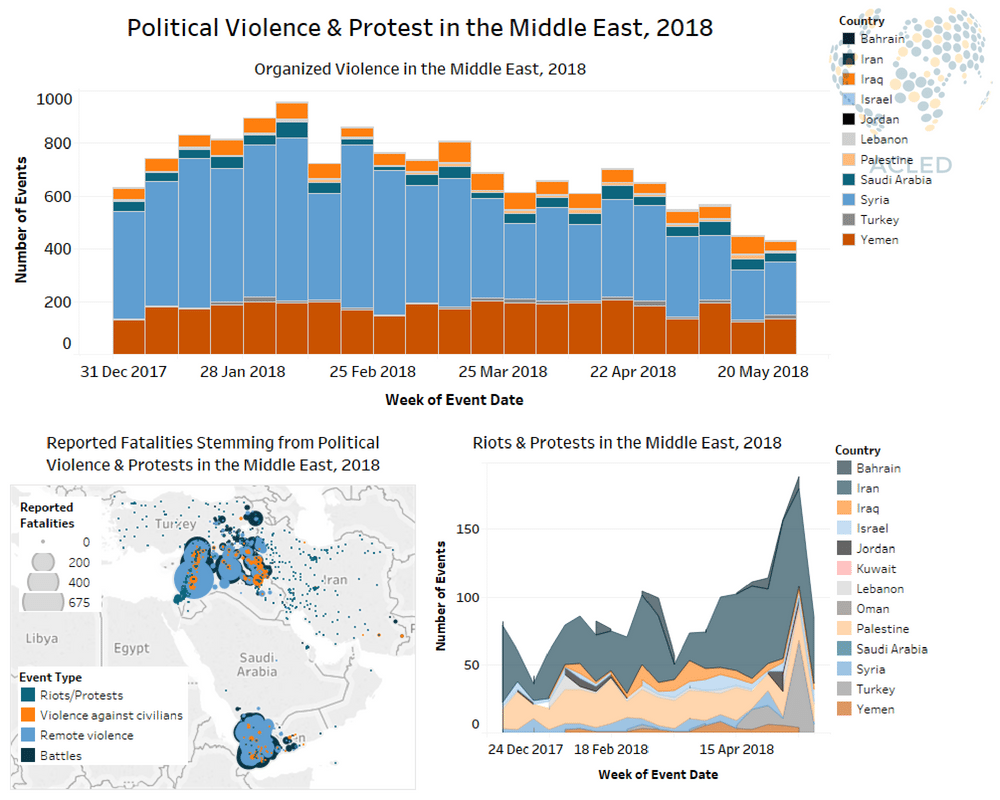 Regional Overview – Middle East
28 May 2018