Events relating to elections and labour concerns stood out in a number of countries this past week, which included International Workers' Day on May 1. In Iraq, Islamic State (IS) militants continued to engage in election-related violence. Iran's protests were also focused primarily on labour and economic issues this past week. A number of notable dynamics were recorded in the data on Syria this past week, particularly relating to new offensives against IS by both government and non-state forces and surrenders/evacuation deals secured by the Syrian government, while in Yemen fighting has continued along the frontlines in its civil war.
In Turkey, there was a spike in demonstrations this past week relating to International Workers' Day. Many of these took place in Istanbul and Ankara, with many involving former public workers dismissed by executive orders. The protests lasted for almost a week, and involved regular police interventions. There were also protests related to the government's proposed divisions of some large universities, including Istanbul University, which opponents believe represents an attempt to bring them under stricter government control (Al Monitor, April 30, 2018).
In Iraq, three election-related political violence events were reported this past week. These included the bombing of a candidate's home in the Tooz district of Sala al-Din governorate, an IED attack on a voter centre in the 9 Nissan (New Baghdad) district of Baghdad, and a gun attack on another voter centre in the Adhamiya district of Baghdad, which reportedly resulted in the killing of two guards.      
In Iran, the majority of demonstrations focused on labour and economic issues. Many of the labour protests were held specifically to mark International Workers' Day. Alongside these were many demonstrations against various private lending institutions that demonstrators allege have defrauded them. Anger at financial institutions — seen as taking advantage of the difficult situation in Iran resulting from Western sanctions — is believed to be part of what led to the spike in anti-government demonstrations in December 2017 (ACLED, February 23, 2018).
In Palestine, the weekly Great Return March (GRM) demonstrations reaffirming the right of return for Palestinian refugees again took place this past Friday. The West Bank, however, had a lower than average number of clashes, with more events occurring in the Gaza Strip than in the West Bank, whereas the opposite is the case on average.
In Syria, ongoing offensives targeting IS by both domestic and external forces gained ground. Syrian government forces made progress in Damascus city's Al-Qadam neighborhood and towards bisecting an IS enclave in the city's southern outskirts. Elsewhere, Syrian Democratic Forces (QSD) supported by the Global Coalition Against Daesh began their offensive against IS in eastern Deir-ez-Zor and areas of southern Al-Hasakeh (Washington Post, May 1, 2018), where QSD forces captured several villages.
Meanwhile, Syrian government forces, backed by the Russian military, reached three important surrender and evacuation agreements with different rebel factions. To the south of Damascus city, rebels and civilians in Yalda, Babella, and Beit Sahm towns began evacuations, while Hayat Tahrir al-Sham (HTS) fighters agreed to a deal evacuating areas of Yarmouk camp in exchange for the evacuation of residents of the rebel-besieged towns of Foah and Kafraya in Idleb. A third deal was struck with rebel factions in the strategic pockets of southern Hama and northern Homs, in which rebels have begun disarming. This agreement was met with significant protests from civilians in the affected areas, as well as a complete rejection by a number of factions, including the Syria Liberation Front (JTS).
In Yemen, pro-Hadi troops advanced into Baqim district and seized a number of ballistic missiles from Houthi forces. Off the coast of Somalia, Emirati troops have landed on the Yemeni island of Socotra and have taken control of the airport, sparking protests from local civilians. Clashes fought over the past two weeks in the Taizz area between two Salafist factions linked to the Al-Islah group and Yemeni warlord Abu Abbas respectively came to an end after a peace agreement was reached. Elsewhere, clashes between Houthi and Saudi Arabian forces in and around Saudi Arabia's southern governorates of Jizan, Najran, and Asir resumed with greater intensity this past week after a slight lull the week before.
(Note that our coverage of Saudi Arabia and Yemen is supported by local partners and is therefore subject to sourcing lags based on their capacity to process reports and the situation on the ground. As such, some events may be incorporated into ACLED's dataset with a one-week delay)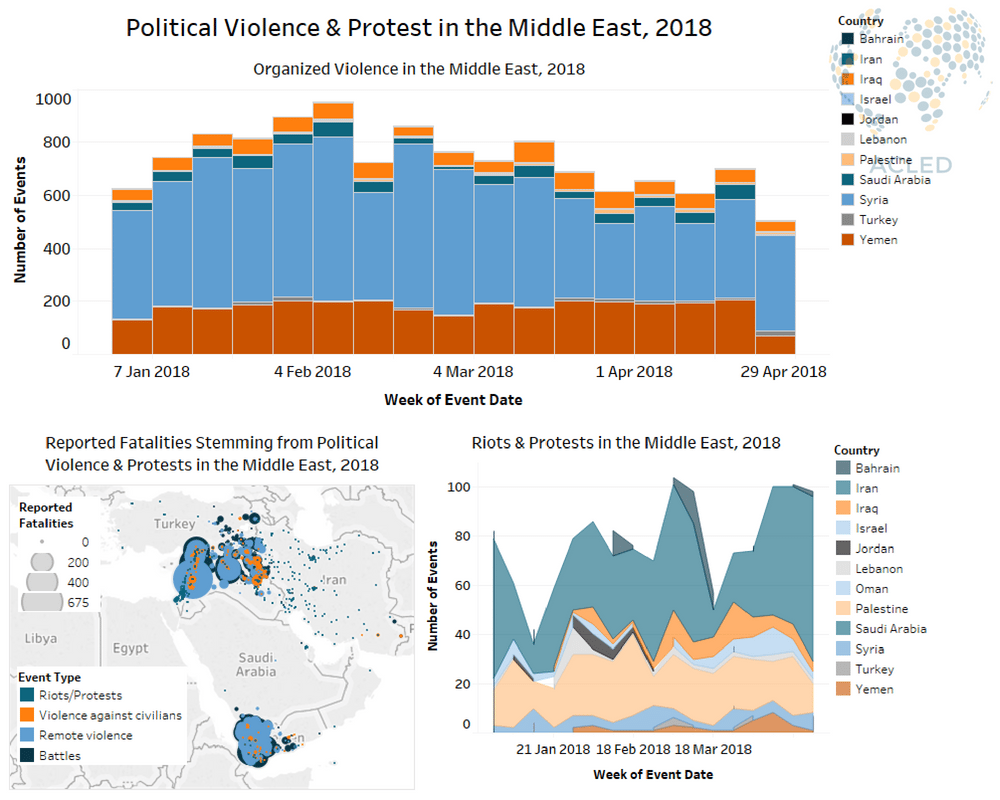 Regional Overview – Middle East
7 May 2018