Levels of political violence decreased and protest levels remained static in all countries in South and Southeast Asia, with the exception of India where political violence increased by almost 15% and the number of protest events decreased by over 30%.
In Afghanistan, Taliban militants launched coordinated attacks on the Tishkan, Shuhada, and Kohistan districts of Badakhshan province on May 1, taking full control of Kohistan on May 4. The attacks were part of the Taliban's recently launched spring offensive, codenamed Al Khandaq. With the capture of Kohistan, the Taliban now controls three districts in Badakhshan, with Warduj and Yamgan being the other two Taliban-controlled districts (Qatar Tribune, 5 May 2018).
Political violence in India was dominated by the ongoing pre-election violence in the state of West Bengal and continued battles between Maoist rebels and government security forces in the state of Chhattisgarh. In addition, Hizb-ul-Mujahideen and Lashkar-e-Taiba militants launched several attacks on security forces and civilians in the state of Jammu and Kashmir.
Protest levels remained static across the South and Southeast Asian region as labour unions and activists staged Labour Day protests on May 1, demanding the improvement of workers' rights. The highest numbers of protests were reported from Pakistan and India. Activists also took to the streets in Laos, Cambodia, and Bangladesh.
(Data on Philippines, Thailand and Myanmar have not yet been released; trends are hence not explored above.)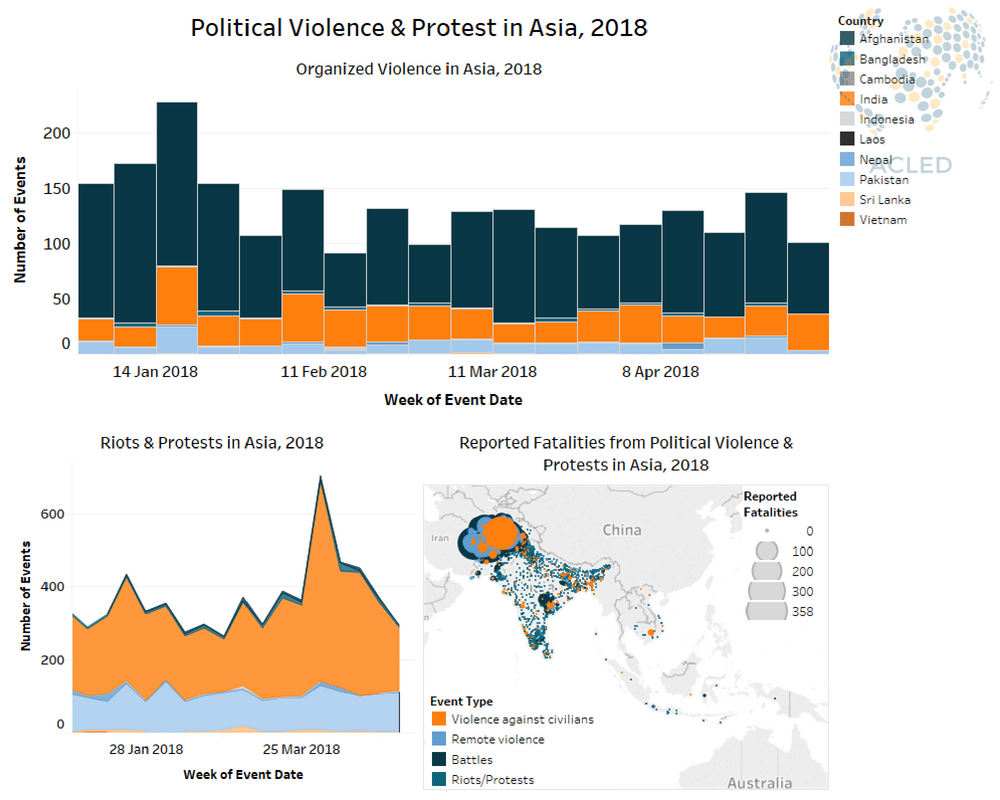 Regional Overview – Asia
7 May 2018