Event numbers across the Middle East were largely static last week, while only a few new trends were recorded in Iran, Iraq, Palestine, Syria, and Yemen.
In Iraq, event levels dropped slightly last week despite the upcoming elections planned for May 12. There were, however, several clashes reported between Kurdish rebels and Turkish military forces in northern Iraq, resulting in 25 reported fatalities among the Turkish forces — a markedly higher number from prior clashes of this sort. Islamic State (IS) militants also engaged in a number of IED attacks, which are believed to be aimed at creating insecurity ahead of the elections.
In Iran, riots and protests over economic conditions and water shortages continue. Additionally, a cross-border attack in the Mirjaveh area by Pakistani militants from the Army of Justice (aka Jaysh al-Adl) resulted in the deaths of 3 members of the Iranian security forces, including 2 Iranian Revolutionary Guard Corps (IRGC) officers, and 3 militants.
Meanwhile, a number of protests were held in Palestine last week to mark Palestinian Prisoners Day on April 17. Great Return March (GRM) demonstrations, focused on reaffirming the right of return, were also held for the fourth consecutive week in Gaza, although the number of demonstrators is reported to have dropped (see our piece on the Great Return March for more on these demonstrations). At least 4 fatalities were reported during last Friday's demonstrations.
In Syria, intense clashes and bombardment continue between Syrian government forces and IS militants around IS-held pockets of southern Damascus, despite ongoing ceasefire negotiations. In the Eastern Qalamoon, government forces and Islamist rebel factions were able to reach ceasefire, including an evacuation deal, which saw the displacement of hundreds of fighters, their families, and other civilians to northern Syria. At the same time, Syrian government forces also increased shelling and airstrikes last week on the remaining rebel enclaves in southern Hama and northern Homs in hopes of pressuring rebels to reach a similar agreement. The recent truce between Hayat Tahrir al Sham (HTS) and the factions of the Syria Liberation Front (JTS) broke down last week, leading to the resumption of clashes in western Aleppo and southern Idleb.
In Yemen, there was a rise last week in the number of airstrikes reported across the country. This coincided with clashes reported across the various fronts in the country's civil war, including in and around the border regions of Jizan, Asir, and Najran in Saudi Arabia and in Lahij, Ma'rib, Sadah, San'a, and Taiz governorates in Yemen. Meanwhile, pro-Hadi forces were reported to have taken control of new areas in al-Bayda and Sadah. The Yemeni National Resistance Forces (NRF) — a Saudi-backed military force led by Tareq Saleh, the nephew of the late former president Ali Abdullah Saleh — also began military operations in multiple districts of Taiz governorate last week. The NRF reportedly drew in thousands of Yemenis in a recruitment drive (Emirates News Agency, April 21, 2018). At the same time, demonstrations by people in the Taiz area were held in a number of Yemeni cities to denounce the transfer of heavy weapons to the NRF, and more broadly over the creation of militias outside government control.
(Note that our coverage of Saudi Arabia and Yemen is supported by local partners and is therefore subject to sourcing lags based on their capacity to process reports and the situation on the ground. As such, some events may be incorporated into ACLED's dataset with a one-week delay)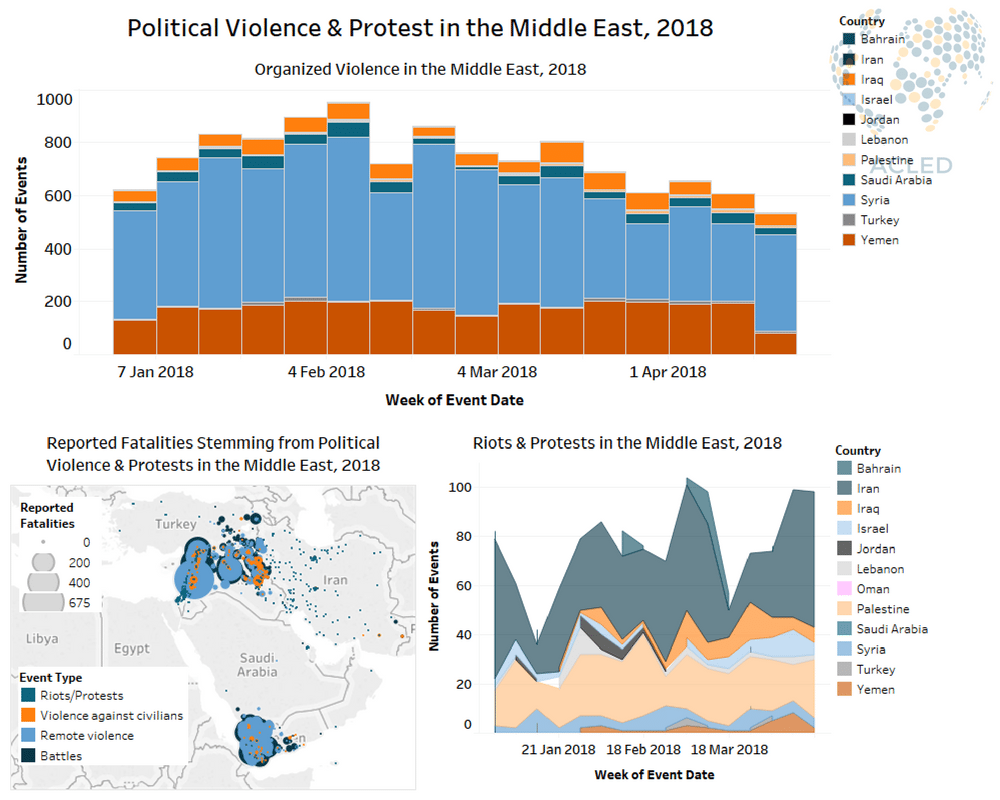 Regional Overview – Middle East
23 April 2018