Levels of political violence and protest events remained static in most South and Southeast Asian countries over the course of last week.
Overall levels of political violence declined in Afghanistan, while air and ground operations by Afghan security forces against Islamic State militants in Nangarhar province were heavier than previous reports, with 22 reported events last week compared to 6 events in the previous week.
Attacks targeting civilians were reported from both Afghanistan and Pakistan. Most notably, the Taliban and some unidentified armed groups conducted three separate attacks on voter registration centres in the capitals of Nangarhar, Ghor, and Badghis provinces in Afghanistan. In Pakistan, the Islamic State and an unidentified armed group were responsible for two targeted attacks on civilians in Quetta city.
In Nepal, two bomb explosions were reported from a rural municipality office in Ilam and near an Indian diplomatic office in Biratnagar city with no reported casualties resulting from either attack. A Maoist splinter group is suspected to be behind the explosion in Biratnagar.
Meanwhile, in India, protest levels remained high with thousands of Indians taking to the streets demanding justice and better protection for women and children in the light of recent cases of sexual assault – including the rape-murder of an 8-year-old girl in Jammu and Kashmir (Al Jazeera, 15 April 2018). Students were often on the forefront of the wave of riots and protests that swept across India, with protest events being reported from 19 different states. Over 40% of the anti-rape demonstrations occurred in the state of Jammu and Kashmir.
(Data on Philippines, Thailand and Myanmar have not yet been released; trends are hence not explored above.)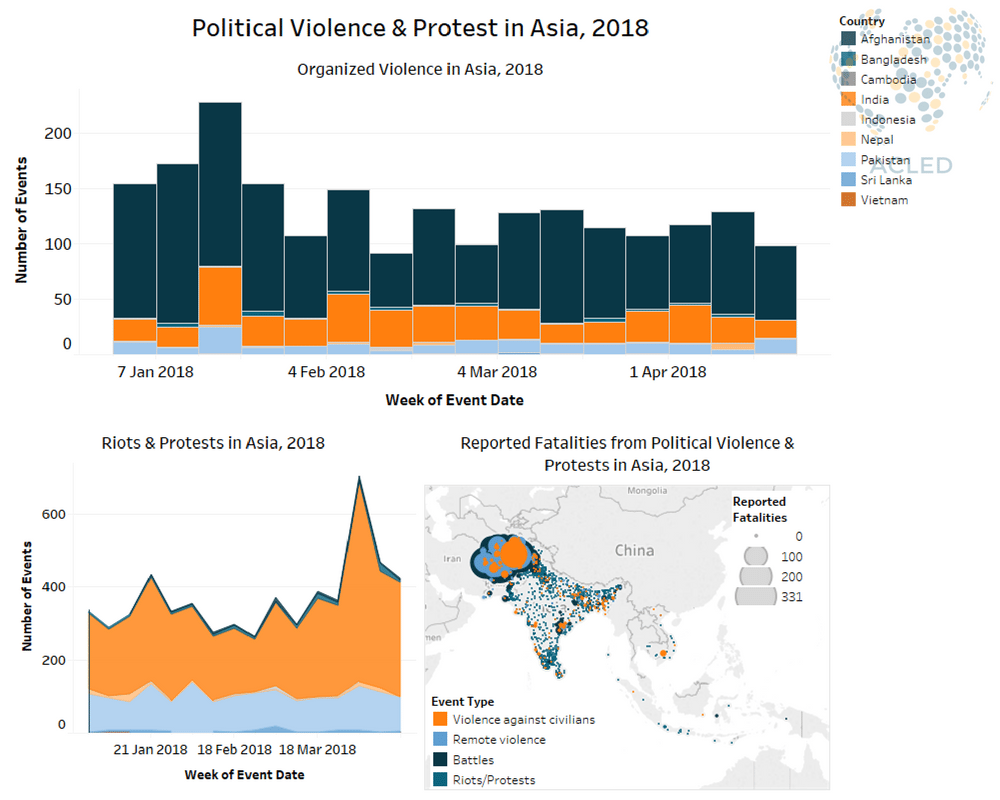 Regional Overview – Asia
23 April 2018