With regular updates on the ACLED Crisis Blog, ACLED analysts have created a selection of graphs, charts and infographics to highlight key trends and patterns in conflicts across the African continent and in select country cases.
---
ACLED Maps
Using Spatialkey, ACLED researchers present dynamic, interactive maps of ten recent active conflicts. Clicking on these maps will bring you into ACLED's spatialkey account where you can manipulate and change the data selection, create new maps and save, print or email your completed map and timeline.
---
ACLED Trends Visuals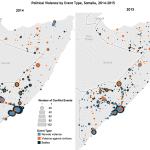 A selection of visuals highlighting continental and country trends in political violence are included below. The data is drawn from ACLED Version 7.
---
ACLED Infographics
ACLED analysts have created several infographics drawn from the realtime 2013 data (available in ACLED Version 4). These are shared on our Twitter feed, and posted below.