Trend 2: AGENTS OF VIOLENCE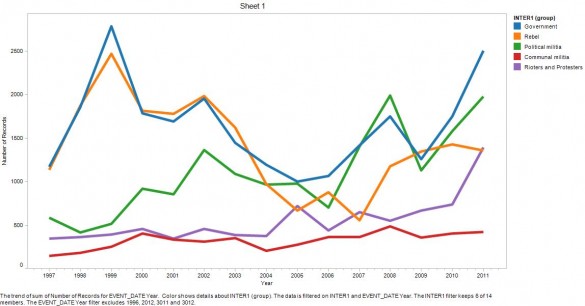 In the past fifteen years, there have been distinct changes in the main perpetrators of violence. While governments remain the most actively violent group, the second-most violent group has changed from rebels to political militias. Both are on the increase, compared to the overall downward shift in rebel activity. Perhaps most surprising, is the rising rate of rioting and protesting across African states, which in 2011 is over double the rate of 1997.  The overall story is that governments are a main component of political violence in African states – whether in failing states, such as Somalia, where governments have gone from being targeted to being the aggressor, or in states like Nigeria where governments are responding to violence by militias, such as Boko Haram.
Rioting in 2010 is believed to have increased largely due to food crises experienced throughout the continent. However, rioting at present is increasing at rates comparable to the main types of political violence – barring communal activity which is largely stable, and rebel activity which is declining.
This graph clearly indicates that the main form of violence on the African continent is no longer civil war, and has not been since 2002 when political militias stepped into the role of the main non-state agents of political violence. The motivations of militia activity are distinctly different from rebel activity, and may indicate a profound change in the nature of African violence, but not necessarily its effect on civilians.